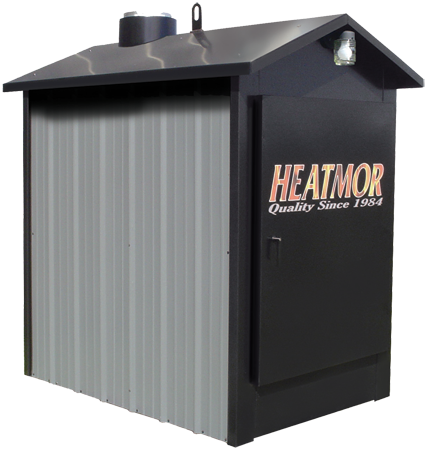 The use of outdoor wood furnaces for heating is gaining new popularity with plentiful wood supplies and its cost effectiveness, low impact on the environment and the advent to safe, convenient, and long lasting stainless steel outdoor wood furnaces.

Special Financing Now Available for Outdoor Wood Furnace Purchases!

Features
Heavy Gauge STAINLESS STEEL is used in all assemblies that come in contact with fire and water. This protects against corrosion and warpage and will increase the life of your furnace.
ASH AUGER CHAMBER and CAST IRON GRATES in the firebox provide efficient combustion that burns wood into a fine power, providing for easy removal of ashes without a shovel.
SEMI-CLOSED LOOP SYSTEM reduces evaporation of water and/or anti-freeze.
MULTIPLE HOOK-UPS allow you to heat more than one building/heating system from the same furnace, including your home, domestic hot water, swimming pool, hot tub, garage, workshop, green house, or farm shop.
Benefits
No mess, smoke or fire danger in home.
No need to split or haul wood into home.
Works with existing forced air, hot water, or radiant floor heating systems.
Long burn times.
Very nice even heat
Many different APPLICATIONS from home to workshop and everywhere in between.
Specifications
Residential Units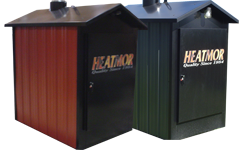 CB Series Models
You realize big savings with your HEATMOR™ furnace, designed to work as easily with existing heating systems as with new construction. The more heating needs you have, the greater the savings, because a HEATMOR™ system can add warmth to your life inside and out.
200 CB

400 CB

Limited Warranty

Lifetime

Lifetime

Stainless Steel

409

409

Weight (lbs)

1,599

1,968

Height

82.5″

82.5″
Width

50″

50″

Length

77″

95″

Forced Draft (cfm)

150

2 x 150

Chimney Size

8″ or 10″ insulated

8″ or 10″ insulated

Firebox Length

36″ Depth 28″ Width

54″ Depth 28″ Width

Heating Area (Sq. Ft.)

5000

10,000

Water Capacity (US gal)

114

155
Firebox Door Opening (W x H)

20

" x 18″

20

" x 18″
Color Options – 22 colors are available. Exact color samples can be supplied by Mikes Heating upon request.
Shaker Grate Option – The HeatmorTM residential models are capable of burning certified types of coal. By adding the Shaker Grate Option to your Heatmor Outdoor Furnace, you will easily be able to burn coal as well as cord wood in the same unit. For more information, please contact Mikes Heating.

Commercial Units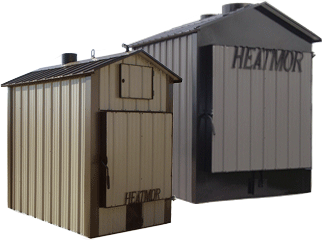 Quality – As the outdoor wood furnace industry's innovator in the use of stainless steel, HEATMOR™, Inc. can offer the finest in quality and craftsmanship and back it with the best warranty available. The new Models 600 CSS and 800 CSS are constructed with the same 409 grade stainless steel furnaces and have been outperforming mild steel three to one (lasting up to three times longer). To provide the strength and durability in these larger models, we have utilized a heavier gauge of stainless steel (7 gauge) to endure the rigors of commercial applications.
Easy Load Features – Years of research and development have gone into the design of all our outdoor wood furnaces and have resulted in a furnace that offers safety and convenience as well as high performance and efficiency. To insure maximum operator safety, we feature a water-cooled firebox door, fully insulated housing and a CSA approved A.R.D. (Anti-Rollout Device) that guards against flashback. Features such as an ash removal auger, bladder system and forced-air draft make the Models 600 and 800 CSS easy and efficient to operate and maintain. The large capacity firebox and firedoor opening allow for large amounts of wood to be loaded with ease. (36″H X 30″W for 600 CSS and 50″H X 56″W for 800 CSS.)
Applications – The need to heat large commercial-type buildings and to utilize waste wood as an energy resource are the reasons for the development of these units. The 800 CSS model is capable of handling the heating needs of any building up to 25,000 sq. ft. (18,000 sq. ft. for the 600 CSS). Convert your waste wood into heat for your business while reducing heating costs and landfill fee for disposal.
450 CX

600 CSS

800 CSS

Limited Warranty
Lifetime

Lifetime

Lifetime

Stainless Steel
409, 10 guage
409, 7 guage
409,

7

guage
Weight (lbs)
2,200
2,800

5,000

Height
82.5″
106″

114″

Width
46.5″
68″

90″

Length
95″
102″

104″

Forced Draft (cfm)

2 X 150

2 X 150

1

-150CFM Primary
1-350CFM, Secondary
Chimney Size

8″ or 10″ insulated

10″

16″

Firebox Length

54″ Depth 28″ Width 36″ Height

60″ Depth 37″ Width 47″ Height

54″ Depth 60″ Width 65″ Height

Heating Area (sq ft)

13,000

18,000

25,000

Water Capacity (US gal)
210
285

487

Firebox Door Opening (W x H)

28″ x 18″

30″ x 36″

56″ x 50″
Color Options – 22 colors are available. Exact color samples can be supplied by Mikes Heating upon request.